RATECH is a company that offers installations and integrations of security systems. Our priority is service – service to clients, colleagues and the community. The provision of values through unparalleled customer service and operational excellence has always been essential to RATECH. Our promise and our main objective are to be the best service provider for our customers.
RATECH was established in 2007 by a group of young people dedicated to bringing innovative security equipment to Albania. During these years, RATECH has become one of the companies with the largest growth in the security systems sector in Albania. Guided by passion and hard work, we have helped our clients meet all of their safety requirements.
Inspired by our achievements, we continually invest in technical solutions and new partnerships, increase our capacity and cultivate our staff, to ensure that RATECH is well-positioned to help our customers explore the endless opportunities presented in our sector. What makes us unique is the ability to design, develop, and implement new technical capabilities that allow our clients to take their business to the next level.
As a company built on partnerships with world-leading brands, RATECH brings the technology of security to the Albanian market with the greatest cost-effectiveness. We are happy to make the complexity of the security industry easier for you, to solve any technical problems you may have, and assist you in your business challenges.
The work processes in our company and the services we offer to our customers comply with international certification standards. We take care to understand these standards, to apply them in our everyday operations, and to maintain at all times the necessary certifications to allow our clients and partners to be certain of the quality of our work.
RATECH is based on management systems that have a direct impact on the efficacy of work processes, customer satisfaction, staff motivation, and productivity growth.
RATECH holds these certifications
based on international standards.
ISO 9001:2015
Quality management systems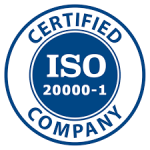 ISO/IEC 20000-1:2018
Information technology – Service Management System
ISO/IEC 27001: 2013
Information technology – Information Security Management Systems
ISO 22301:2012
Societal Security – Business Continuity Management Systems
ISO 50001:2018
Energy Management Systems
PAS 99:2012
Integrated Management Systems
ISO 14001:2015
Environmental Management Systems
OHSAS 45001:2018
Occupational Health and Safety Management
RATECH holds these professional licenses:
NP-11/A
Construction for electric stations, transformers cabins, TN lines and middle and energy distribution
NS-5/A
Systems for lighting traffic signage
NS-13A
Telephone and telecommunications systems and lines
NS-14E
Internal electric, telephone, radio-telephone, TV systems.
RATECH holds the Industrial Security Clearance (CIS) and several employees in key positions are holders of the Personnel Security Certificate (CSP), issued by the Albanian National Security Agency (DSIK).